Kid's Activities for March
Happy March from all of us at the Martin-Pitt Partnership for Children! We're so excited to continue The Kids' Corner by bringing you even more fun and free kid's activities that you can do at home this month. In addition to celebrating St. Patrick's Day, March also offers Read Across America Day and more. Check out the list below and then visit The Kids' Corner page!
Read Sulwe by Lipta Nyong'o
Create a fingerprint rainbow pot of gold
Complete a diversity appreciation activity with your child
Read The Cat in the Hat by Dr. Seuss
Make a leprechaun hat with delicious trail mix
Read How to Catch a Leprechaun by Adam Wallace
Create a leopard puppet using a paper bag
Read The Hula-Hoopin' Queen by Thelma Lynne Godin
Sulwe by Lupita Nyong'o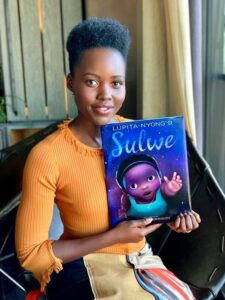 Sulwe tells the story of story a little girl who wants her darker skin to become lighter, like her sister and mother. Lupita Nyong'o, a Kenyan Academy Award–winning actress and a star of the film Black Panther, created the story to inspire children to love themselves as they truly are — beautiful and unique. The book is a New York Times bestseller, recipient of a Coretta Scott King Illustrator Honor Award and an NAACP Image Award for Outstanding Children's Literary Work, and has been featured in its own episode in the Netflix original show Bookmarks: Celebrating Black Voices!
Fingerprint Pot of Gold Kid's Activities
Children's blog Crafty Morning shares how to use your little one's fingerprints to create a St. Patrick's Day-inspired rainbow and pot of gold. You'll need white paper or card stock, black paper, rainbow paint, glue or tape, and scissors. You can also add gold glitter if you would like!
Kid's Activities for Diversity Appreciation
We are all beautiful, special, and unique. This activity by blog StrongLuv helps inspire children to appreciate and understand diversity. Titled, "Despite Our Differences," the printable encourages children to draw themselves and their friend, and then list the ways that the person is the same and different than they are. It ends by asking what is their favorite thing about their friend.
The Cat in the Hat by Dr. Seuss
We've all heard of the tales of Dr. Seuss. The YouTube channel Storytime with Miss Jeannie offers a read aloud of this famous book that you can enjoy anytime with your little one.
St. Patrick's Day Leprechaun Hat Craft
Blogger Heidi Kundin of Happiness is Homemade shares how to create a fun St. Patrick's Day leprechaun hat that you can fill with a delicious rainbow trail mix. Share this with your family or as a classroom treat (with approval, of course!).
How to Catch a Leprechaun by Adam Wallace
"How to catch a leprechaun? It's tougher than you think! He'll turn your whole house upside down. He's quicker than a wink!" This book by Adam Wallace is a New York Times and USA Today bestseller that combines STEAM concepts, vibrant pictures, and clever rhymes that will inspire you and your family to build the best leprechaun trap you can think of in your own home. You'll need rainbows, shamrocks, pots of gold, and lots of luck to catch this leprechaun!
Leopard Puppet Kid's Activity
Create this adorable leopard puppet inspired by the book, Put Me in the Zoo by Robert Lopshire. This book shares the idea that everyone has a spot in life and is a great free kids activity that you can do at home.
The Hula-Hoopin' Queen read by Oprah Winfrey
A hula-hooping competition in Harlem celebrates the importance of community and family ties. The legendary Oprah Winfrey joins YouTube channel StorylineOnline to read The Hula-Hoopin' Queen by Thelma Lynne Godin. Do you know how to hula-hoop? This activity is a fun and easy way to get up and moving with your little one!
Do you want more fun activities to do with your child that focus on education and brain development in a creative way? Check out our Parents As Teachers program!